BALDY MOUNTAIN RESORT ADDS +$1,000 IN VALUE TO EARLY BIRD SEASON PASSES
Early bird passes on sale May 30th – July 31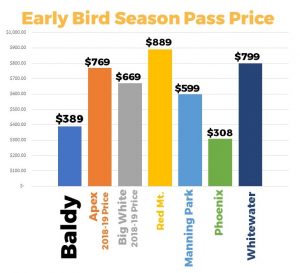 Baldy Mountain Resort has always been awesome for everyone who wants affordable skiing in BC but this year we're taking things to a whole new level. with over  $1,000 in new added value! That includes a bold move to partner with 4 other independent ski areas to offer the ERA (Enhanced Reciprocal Agreement) Pass providing all Baldy Mt. Season Pass holders for 2019/2020 2 FREE LIFT TICKETS to Apex, Manning Park, Mt. Seymour and Mt Washington ski areas! We asked and we heard what guests had to say and we created easier ways to pay, brand-new pass options for families, parents, teens, students and masters,$500 in prizes and you could get $200 if you take us up on our new payment plan option!
Early Bird Seasons Passes for the 2019-2020 Season go on Sale Thursday, May 30th at 12:00 NOON





This year Baldy dug deep into the data and went out to its guests asking them how to make Baldy Mt. an even better experience, how to make it more affordable and in the end, how to get more folks out on the mountain having fun with their family and friends.
One area that was looked at closely was the age of Baldy Season Passholders in comparison with the demographics of the regional area they largely come from.
"The data told us several very clear stories," explained Marketing Coordinator Andrew Zwicker. "First, our single biggest age category by a wide margin for pass holders was the 15-19 year-old category. That was followed up with an 85% drop among 20-24 year olds, suggesting a strong need for a student pass to keep those teens skiing, even if just on weekends and holidays home from school."
The second thing noticed was a real need for a pass to help parents of young kids get a little more me-time or "Ski-time." We know early parent-hood is a huge challenge on all fronts and wanted to making it easier and more affordable to keep skiing and riding during the early parent years.
"We then reality checked our assumptions from the data with our real guests through a series of social media questions that got an enthusiastic and thoughtful response from many of our guests," added Zwicker.
The end result was a whole new set of pass-holder benefits, partnership with other mountains offering free skiing, easier ways to pay, new pricing categories, new passes for students, passes specific to parents and families and the introduction of a flex pass.
"We're a community-based mountain and our guests are very passionate and knowledgeable about their home mountain, so when we want to try new things, we start by asking the community what they want," explained General Manager Andy Foster.

ERA PASS – 8 FREE LIFT TICKETS
We've partnered with 4 other resorts to offer the ERA (Enhanced Reciprocal Agreement) Pass. Just by being a Baldy Pass holder you're automatically an ERA Pass member. If you can believe it, that gets you 2 Free Lift Tickets this season to each of Apex, Manning Park, Mt Seymour and Mt Washington. Your 2 free tickets can be used anytime except Christmas Holiday, Family Day and Spring Break. You can use your 2 Free Lift Tickets on non-consecutive days without accommodation or two consecutive days with accommodation.That's over $500 in FREE Lift Tickets!

CLUB BALDY
Simply by being a Baldy Passholder you are already a member of Club Baldy. Just show your pass at participating businesses for a discount! We are constantly building the program and adding new businesses. If you take advantage of existing members you can save over $400/year.
SEE FULL LIST OF CLUB BALDY PARTICIPATING BUSINESSES
EARLY BIRD SEASON PASS BENEFITS

EASY PAYMENT PLAN WITH VALLEY FIRST
This year we've partnered up with Valley First in Oliver and Penticton to make buying a season pass even easier. Buy your pass during the early bird campaign and you can pay off your pass in up to 7 payments from June 1st to December 1st. Adult Passes are as little as $57/month. (some conditions apply. JOIN Valley First now and you could get $200

YOU COULD GET $200 BY JOINING VALLEY FIRST AND TAKING OUT THE EASY PAYMENT PLAN
JOIN Valley First now and you could get $200. (see getyourshare.ca/valleyfirst for details). That's more than half of your Early Bird Season Pass paid for already!! Amazing!

25% OFF AT A LONG LIST OF OTHER SKI AREAS
Once again this year we're working on building out a long list of other ski areas that will offer you 25% off their lift tickets if you show your Baldy Season Pass. We will be finalizing and growing that list over the summer, Last year that include 25 ski areas in BC, Alberta and The Yukon. We expect this year's list to be much the same, but even larger.

$500+ in prize draws for Early Bird Season Pass customers
The sooner you buy, the more prizes you can win! Starting on June 7th we'll enter all Pass Purchasers in a draw each Friday for 10 weeks. Buy your pass in week 1, and you'll be entered in all 10 prize draws! We have partnered up with The Firehall Brewery in Oliver and Coast Hotels to offer over $500 in prizes.