Baldy Blue Jays Adaptive Sports
Baldy Mountain Resort and People in Motion are pleased to announce the establishment of an adaptive sports program at Baldy in time for next season.  "Baldy Blue Jays Adaptive Sports" will support people with physical and cognitive disabilities to access mountain sports.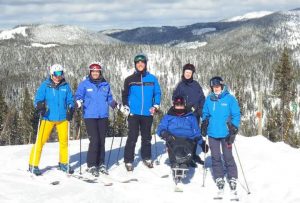 The program name honours Jay Ozanne, Baldy's first adaptive athlete.  Jay's motor skills were impacted since birth affecting his ability to participate in sports.  His family, all top-tier athletes, supported Jay to participate to the best of his ability year 'round.  As a child he would ride a snow trike on the slopes and eventually make regular trips to the top of the lift by snowshoe to greet guests.  He's always smiling, clearly full of joy and gratitude, lifting those around him up with kindness and a golden attitude.  "Jay's determination and the support of his family to maximize his participation is the perfect example of the spirit of this program aimed at sharing the mountain experience with as many people as we can, regardless of limitations" said Sam Smith, long term Baldy resident, ski instructor and former GM.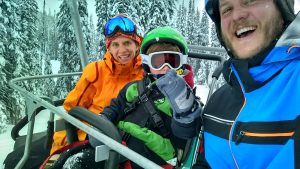 BC Adaptive Snowsports (BCAS), People In Motion(PIM), and Powderhounds adaptive program representatives met with Management and Snow School staff recently at Baldy.  Experiences were shared, resources and programs at other mountains were discussed, and facilities and terrain toured.  The program is volunteer driven, and Baldy Mountain Resort is committed to supporting the program.
Baldy instructor Bryce Beckett has a certification in teaching adaptive snowsports from Canadian Adaptive Snowsports(CADS).  "I've only worked with 5 clients so far and it's already been one of the most meaningful experiences of my life, and the adaptive community is full of so many amazing folks – good vibes central!" he said.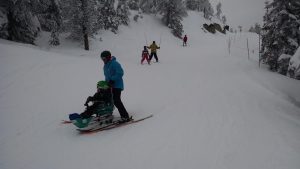 Groups and organizations supporting people with physical and cognitive impairments are encouraged to contact Bryce to help identify the first round of clients for next year, so they can make sure we have what they need to be successful.
Bryce is leading this project and there are a number of things to be organized before next season.  There are volunteers to be recruited, grant proposals to be submitted, fundraising to be done, equipment to be secured, and facilities are to be modified to be wheelchair friendly.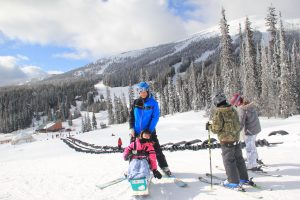 BCAS provides subsidized training for volunteers to achieve their adaptive teaching certification.  Several former ski instructors are on board to take the adaptive course as are a couple of the younger staff and snow school hopefuls for next year.
Volunteers are welcomed and there will be a work party this summer to build ramps in and around the facility. There are also plans for a promotional fundraiser this summer.
Tax deductible donations can be made through People in Motion.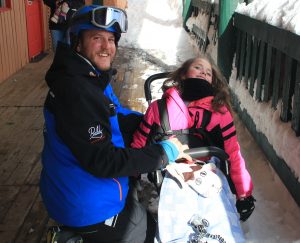 For more information, contact Bryce Beckett at baldymountainadaptivesports@gmail.com