WHAT'S NEW
AT BALDY Mt
GET THE SCOOP!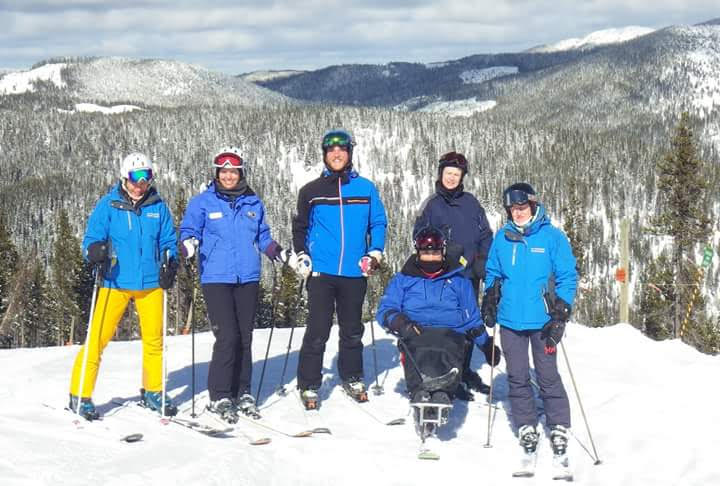 2019-20 Season Updates
This year all Baldy Mountain Resort passholders will receive eight free ski days to four other Southern BC ski areas, a value of over $500. We have partnered up with Apex Mountain Resort, Manning Park, MT Seymour and MT Washington on the ERA (Enhanced Reciprocal Agreement) Alliance. Passholders from all five partner ski areas will each receive two free ski days at the other four areas. There are blackout dates on Christmas Holiday, Family Day and Spring Break but otherwise skiers are free to travel and ski some of Southern BC's finest ski areas. More info at www.baldyresort.com/benefits
Record Pass Sales
Our goal since re-opening 3 seasons ago was to first get Baldy Mountain Resort back on a solid financial footing, and then continue taking baby steps forward with growth. This past spring and summer our Early Bird and Pre-Season Season Pass sales campaigns were a huge hit delivering record revenues to the mountain. This puts us on solid financial footing to continue growing forward. Many thanks to our guests for the great response to our new value-added options and new affordable pass options.
New Affordable Pass Options
We studied the data and listened closely to what our guests were telling us and for this season we created new affordable pass options to help as many people as possible get up to the mountain to have some fun on the slopes this winter. That included a new Student Pass for skiers and riders aged 19-24 at a ridiculously low price of $319. We also added a Family Pass option this year taking 15% off the price of our passes for families with kids under 12. In addition, we recognized the demands on time and finances that new parents face and launched the Okanagan's first Parent Pass allowing moms and dads of young kids to share one season pass for less than the price of two adult passes. Looking after the kids as they grow up, we also broke out our youth passes to include a child( 0-6), Junior (7-12) and Teen (13-18) pass categories making it even more affordable to get your kids up to the mountain. Not forgetting our long-time skiers, we also introduced a Masters Pass for those rippers over the age of 75.
We also worked on completing our fire break project with FESBC. Funding approved by the Forest Enhancement Society of B.C. (FESBC) facilitated the protection of Baldy Mountain Resort, the community, and the resort's future sub-divisions with a 350-metre-wide fuel break. The last wildfire moved through the area in the 1930s. Since that time, a stand of dense fire-prone trees has grown back. The over $279,000 in funding from FESBC was critical in protecting the community from future wildfires.
As a high-risk area, prone to large-scale catastrophic wildfire, we undertook this project to not only protect the resort, and community of over 100 cabins, but an area of abundant natural beauty. While the main aim was to build a fuel break, it was also vital to the resort to have minimal impact on the aesthetics of the mountain so the resort can be enjoyed for years to come.
The harvesting work covered 90 hectares on the southern perimeter of the resort and was completed by Gorman Bros. Lumber Ltd., Lusted Logging, and Mike Closs Logging. Surface fuel clean up was completed by W.G. Shaw and Sons Ltd., and Venholm Holdings Ltd., in partnership with the Osoyoos Indian Band.
Open 5 days a week
Baldy Mountain resort will be open 5 days a week: Thursday through Monday during our regular winter season (outside the holidays and spring break) and that means Big POW Thursday is back! Then while you're taking a break and relaxing midweek, we'll be hard at work getting our slopes ready for Thursday. Not only will our runs be pristine, there will also be two days' worth of untouched powder for you to enjoy every Thursday! Sound good? Check out this video to increase your stoke factor, and keep an eye on the weather report  HERE!
Terrain Improvements
Summer maintenance and improvements
Brushing was the name of the game this summer. Our team spent more hours than any summer in recent history out on the mountain brushing out old lines through Baldy's classic glades and creating a few new ones to explore this winter along the way. The good news is that our awesome tree skiing terrain will be open and in great skiing shape even earlier in the season, and some old favourite lines have been re-opened and will ski beautifully this winter.
Summer brush cutting video – https://www.youtube.com/watch?v=wWDVbxWbiCo
All information about terrain can be found on our trails and maps page.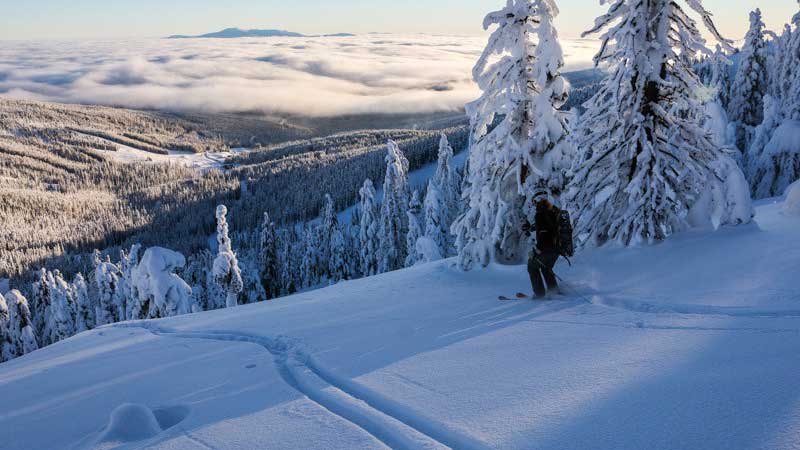 Reciprocals
Getting a Baldy Mt Season Pass doesn't just mean fun on our slopes. Our reciprocal deals with other BC and Alberta resorts mean that purchasing a season pass with us will allow you to get discounted lift tickets at certain other resorts. A full list of our reciprocal deals, including the North Shore Mountains can be found on our Lift Tickets and Passes page.