Barriers to entry – Skiing and Snowboarding in the Okanagan, BC
There is, and have been for some time, a lot of discussions about barriers to entry in the ski industry for both skiing and snowboarding.
Some of the key perceived barriers discussed are cost (tickets, rentals, accommodation etc.), accessibility, and additionally it is cold and can be painful to learn. While I understand some of these challenges, I also understand the complete bliss of flying down a groomer or through light fluffy powder, around trees and the freedom of picking almost any route you like. Moreover, this amazing day is normally completed with a bite to eat and drinks in the lodge with a few friends around a roaring fire. For many of us, the sport is a passion and a great way to get active with friends and family during the winter months.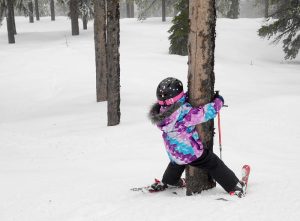 I feel we are truly blessed at Baldy Mountain Resort and are well positioned for beginners to have the best experience possible. Why? Because Baldy offers a relaxed and friendly environment; which comes from a local, smaller ski hill, and a great community and staff that really buy into the friendly culture we strive for. At Baldy, you will not encounter massive crowds, long line-ups, or swaths of people flying past you at every turn. There are also some great priced on-mountain accommodation options, and we offer great value Ski and Stay packages (live on our website soon) in both Oliver and Osoyoos (as cheap as $100 per person for nights' accommodation and a lift ticket). On top of all this we have such great elevation we are blessed with many "Baldy Blue" days and have some of the cheapest lift tickets and season passes around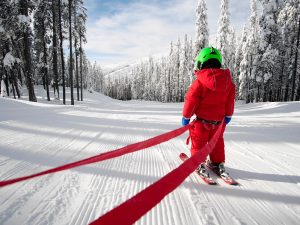 For those of you who haven't heard of CWSAA (Canada West Ski Area Association) and CSC (Canadian Ski Council), I highly suggest you take a minute to review their website as they offer some great insights as well as programs.
For example, the CSC offer a step-by-step guide to get you on the slopes, look for; "READY!" "SET!" and "Go!". They also do a great job in long term planning and guiding the industry as whole. It is worth looking at three of their programs if you are interested in trying the sport:
Discover Ski and Snowboarding: This is a great package aimed at newcomers which offers your lift ticket, a lesson and rental all for a very affordable, low price.
Never Ever Days "Turning Never Ever Into Forever & Ever": This great program offers a lesson, rentals and lift ticket for only $25 on set days each year at participating resorts.
Grade 4 & 5 Snow Pass: This amazing option allows grade 4 and 5 youth ski and snowboard three times at EACH participating ski area for $29.95.
These are all programs that Baldy Mountain Resort offers and we will be releasing our lesson and program options for the coming season very soon. If you are interested in these, please drop us a quick email and we will let you know once they go live.
If you are thinking of trying the sport, just give it a go! There is a reason so many people love skiing and snowboarding! If you are returning to us again this season, we look forward to welcoming you back in December, which is coming up faster than you think!
Have a great fall,
Andy Foster
General Manager
Baldy Mountain Resort