Slush Cup
March 31, 2019 @ 1:00 pm

TO

3:30 pm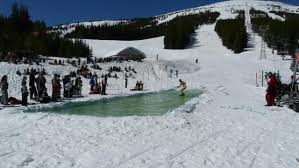 After a long winter season, it's time to close things out by getting a little bit silly and a little bit wet.
Keeping up with tradition, for closing day we'll dig out the slush cup pit and fill it up with some surely cold water for skiers and boarders alike to brave the aqua-neige as they try and skim across it, complete with some great costumes.
Bring appropriate gear and a change of clothing.
It's always sad to say goodbye to another ski season, but what a way to go out!