Family Days at Baldy
As you leave the mild desert weather of Oliver, BC it's hard to believe that you are going to arrive in six-foot high snowbanks, wall to wall powder, and the highest base elevation of any ski resort in Canada in just 35 minutes. For Family Day weekend I packed my five-year-old powderdog (daughter) and our fat skis on the plane and headed for Baldy Mountain Resort, BC. A quick one-hour flight with WestJet from Calgary to Penticton put us on the ground with plenty of time to grab a rental car, some road snacks, and begin the drive.  It was lightly snowing as we passed the
Nk'Mip Desert Cultural Centre
and my daughter informed me from the back seat that she was going to sleep in the teepee at the centre. I offered to drop her off but she quickly calculated that she would miss some epic powder and decided to stick it out.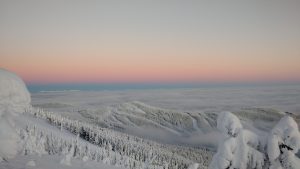 With my five year old glued to the window, watching the snowbanks grow larger, we both began to wonder if our little rental car was going to cope with the snow storm we were heading into. Thankfully, front wheel drive and all season tires were definitely good enough to get us to the main lodge. We pulled in at 5 pm on a Friday night and made our way to the
Baldy Bar
for the chicken fingers and fries I had been promising my daughter since we left the airport in Penticton. We had arranged to borrow a cabin on the hill from some friends of ours-staying on the hill is one of the highlights when we come to BC. There is no ski-in and ski-out at Lake Louise or Norquay. None of the ski resorts in Alberta (which are in the National park) have any accommodation on the hill that is ski-in and ski-out. There really is nothing better than sitting in your jammies at 8:30 am in the morning sipping a cappuccino and still being the first on the lift at 9 am.
After a nice
Firehall Brewery blonde ale
 and a wonderful meal that included a half rack of ribs and Caesar (and those chicken fingers) – we were sufficiently satisfied to head back to our cabin to put our heads down.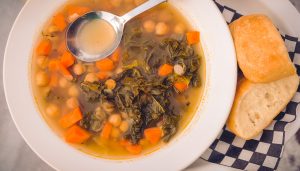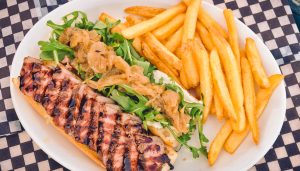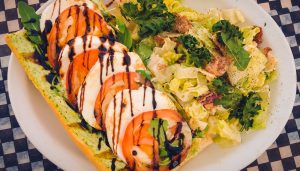 The strata at Baldy Mountain Resort consists of a little more than 100 privately owned cabins, some of which are on the
baldyresort.com website
and some on Airbnb. The cabins range from one bedroom chalets to eight bedroom multi-level homes.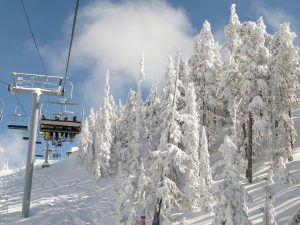 What makes this community unique is the snowfall levels. As you look around at the homes, many of the cabins have removed the railings of the second story balcony. Why, you ask? Because the second story is the ski in and ski out level. With 25 feet of dry, light, natural snow per year, Baldy's snowpack is one to enjoy and make home modifications for.
Locals' tip: take a walk under the stars. It's dark up here at night and the stargazing is worth getting outside for.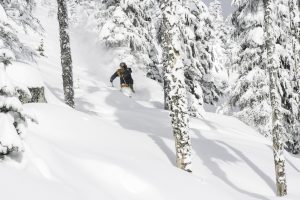 After a restful night at the warm cabin it was time to get some mountain air, or bundle up into a snowstorm. With eight cm's overnight and another five already in the morning – it was going to be a fantastic day of powder skiing on Eagle and Sugarlump.
My daughter is a powderdog so there's no stopping her when it comes to finding the untracked freshies. However, one thing she likes more than skiing is being social. We bumped into an old friend in the lift line who was at the hill with his son for the day. Both glad of adult conversation, we latched onto each other and made a fun afternoon out of park laps, powder tracks on CD and apres-ski back in the Baldy Bar.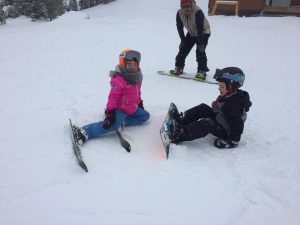 While one might be a snowboarder and one a skier – they both are amazing little rippers and showcase the essence of what the future in winter sport will look like.
Baldy never disappoints; pristine powder, no lift lines, fast friends and an amazing community – it's a place where my family will continue to visit for years to come.