Guest Blogger – Natalie Bruckner @livinglovingbc
Why I Was Blown Away By B.C.'s Best Kept Secret
By Natalie Bruckner @livinglovingbc
Standing on top of Mount Baldy, just off the Eagle Chair, I feel like Mary Poppins. Below me, a thick white cloud covers the lower levels, while above me, the sun is shining creating a glistening effect on fresh powder like dancing fairies. Off in the distance, the top of the Sugarlump Chair slowly peaks through the clouds, as if it's a floating island in the sky. It's silent here, aside from the occasional thud as a fresh dump of snow falls from the trees. This place is truly magical!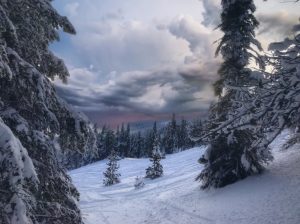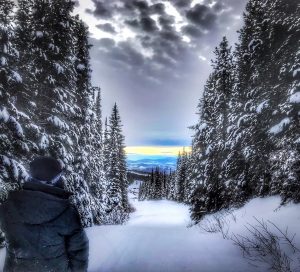 If I'm honest, up until a few years ago I had never heard of Mount Baldy. I suppose that's why it's often referred to as B.C.'s best kept secret. And yet, Mount Baldy was one of the main reasons I eventually decided to move from Squamish, B.C. to the Okanagan-Similkameen area.
I always knew I wanted to live in the Okanagan, but it took some time for things to slot into place…13 years in fact (unlucky for some, lucky for others I guess). However, I promised myself I would only move if I had a local mountain close by. Somewhere I could truly escape to, to get rid of the cobwebs and feel free as a bird. Just a few runs would do.
That was in fact top of my list of requirements when moving last year…I think any ski or snowboard fanatic will understand.
What I never realized was just how stunning Mount Baldy is! I expected a local mountain with just enough runs to get my snowboard fix. What I got was a resort that offered 360 acres of trails with 240 acres of gladed terrain. Together that amounts to the same size as the skiable area on Vancouver's Cypress Mountain. Mind, blown!
I also thought having had Whistler as my local ski mountain I might miss the views. Seriously, what was I thinking? At Mount Baldy you're surrounded by the Dunn Range, a series of rocky peaks with Dunn Peak at the centre at 8,500ft as well as the Cascade Range, and below you lies Dunn Lake. As you glance into the distance you just see layer upon layer upon layer of mountains.
In fact the view is so stunning I have to warn you, you may get whiplash when you're on the chair lift because you can't help but keep looking behind.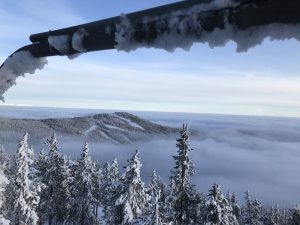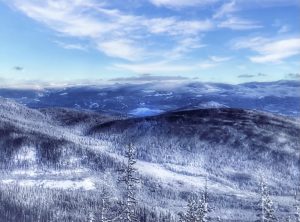 And if that isn't enough to get my snowboard and nature fix, there's the snow.
Mount Baldy does this really neat thing called Big POW Thursday, where they close the mountain on Tuesday and Wednesday allowing for three nights of snow accumulation. That means you are treated to fresh lines through the glades almost throughout the entire day. As for the snow, coming from the Coast I am used to, on the whole, fairly heavy powder, but this, this is truly champagne powder. The last time I rode stuff like this was in Colorado!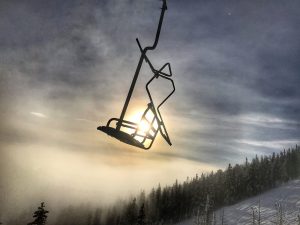 So as I pick a line through the glades and feel the thigh deep powder circle me like a big hug, I can't help but smile, because I've come home.
My only mistake? Holding off on buying a season pass, because I wasn't sure being a "local mountain" it would be worth it. Big mistake. Huge!