What's new for 2018/2019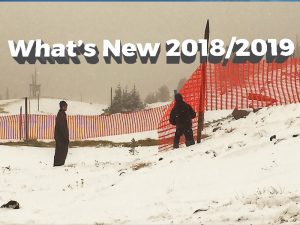 Tis the season for ski resort newsletters informing us of all of the amazing new upgrades they have in store for us this year. If you subscribe to other ski area newsletters (Don't worry, we won't be offended,) then you know what I'm talking about. Here at Baldy however we believe the key to having a great ski day, week or season out on the mountain is good friends, great views, friendly laid-back vibes and a fun mountain buried in great snow.
For 50 years that formula has guided Baldy Mountain Resort, a place where we measure our return on investment not in stock prices but in memories made and "Smiles Per Hour."
We keep things simple and focus on what matters most… Having an awesome time with your friends and family in a gorgeous natural setting, free from the lineups, hustle and bustle of everyday life.
All of that said. Our operations team keeps busy year-round, working hard to continue improving the Baldy experience.
Over the 2018 off-season hundreds of man hours were put in. Here are some of the highlights:
Ski Bums rejoice
Eagle Chair rider's bums will be happy to hear that 200 of the seat pads on the Eagle Chair are being replaced.
Sugarlump gets smooth
The Sugarlump area saw some love with more contouring, cleaning up and smoothing out of runs including Fenwick Wilson's Prospect, Jones and Fairweather.
Snow Farmers getting busy
The Upper Dividend area in the past has gotten wind-blown. This fall the ops team installed snow fencing in the area to help catch and hold more snow and added additional ground cover to keep the popular area well-covered. Your base and   edges thank you in advance.
Going South gets easier
The South Ridge trail saw a lot of machine work pulling out boulders, bumps and brush. This will allow us to send cats up and start grooming the area earlier in the season.
That's our version of the "Oh-my-goodness-look-at-all-of-the-massive-improvements-this-year," newsletter in this our 50th year of keeping things real here at Baldy Mountain Resort. As much as things change, one thing always stays the same, Baldy's authentic, fun, family friendly laid-back vibe.
"We put in more hours this year on the mountain than we have in recent years," explained facilities manager Matt Koenig. "It's all about trying our best to make improvements that make our terrain more usable, friendlier and more fun!"