News, events and deals
Baldy Mountain Resort
British Columbia, Canada

OPENING DAY: DECEMBER 15TH

Lift Tickets and Season Passes ON SALE NOW
Summer Operations
VISIT FOR AN AWESOME SUMMER EXPERIENCE
Punch Card
BUY 3 / 4 DAY PUNCH CARD AND SAVE UP TO $50
LOCAL, UNLIMITED, FREEDOM
THE BALDY EXPERIENCE
Baldy Mountain Resort is a high alpine treasure, where plentiful powder rests seasonally upon Mt. Baldy as the 3rd highest elevation ski area in British Columbia.
Ski or snowboard through the perfectly spaced glades, on our groomed runs, or take a walk through the woods on snowshoes. Where the Nk'mip Desert meets the inland rainforest of the West Kootenay's, there is something for every fan of mountain culture at Baldy Mountain Resort.
Baldy; Local, Unlimited, Freedom
Baldy Mountain Resort has some of the most affordable skiing and snowboarding in BC Canada, making it a great family adventure destination. Aside from skiing and snowboarding, there is a variety of other activities available for everyone in the family.
At Baldy Mountain Resort we are pleased to host a variety of mountain events throughout the year. Join us and enjoy the mountain and surrounding areas at one of our numerous events; or, host your own event with us.
Give the gift of Baldy by purchasing one of our gift cards. We will e-mail you an e-voucher that you can print off and gift or send via e-mail. Simply select the card, or cards, you want and complete your information.
Big POW Thursdays! Eagle chair being closed Tuesday and Wednesday (except on holidays), allows for 3 nights and two days of snow accumulation.
Check out the weather report to not miss out!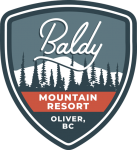 Explore Baldy
SO MUCH FUN!
Summer Operations opening July 1st. We will be open from 11am until 4pm Sat and Sun every week of summer and select holiday Friday's and Monday's.
Looking for up-to-the-minute snow and weather reports for Baldy Mountain Resort? Look no further. Check out our Baldy Snow Report, where you'll find webcams, mountain temperatures, snowfall accumulation, forecasts, and everything else you'll need to know to plan your day on the slopes.
Discover the incredible sports of skiing and snowboarding at Baldy Mountain Resort! Perhaps you are a novice or have little on-snow experience? No problem! Our snow school coaches are here to help with fun and enthusiastic guided instruction throughout your learning process.
Baldy Mountain Resort has activities and terrain for the entire family. Whether it's skiing and snowboarding or a round of disc golf, we've got you covered! Check out our trail map to see all the options.
Baldy Mountain Resort has invested in a performance-level rental fleet that is professionally tuned and maintained. Our rental equipment includes skis, snowboards, and snowshoes! Visit our rental shop and our team of equipment experts will set you up with the latest gear that will allow you to enjoy the mountain to its fullest.
Whether you're looking for a seasonal position or your next great career opportunity, full-time or part-time, we may have what you're after. A wide variety of challenging ski resort jobs and career opportunities are available right here at Baldy Mountain Resort. We are currently hiring for a variety of positions.
Next Event
LET THE GOOD TIMES ROLL!
Learn How to ski or snowboard
OUR INSTRUCTORS ARE THE BEST!
Our family-friendly resort has ski and snowboard lessons for beginners at any age. Only been once or twice and want to receive some helpful instruction to progress to the next level? Baldy Mountain Resort offers kids, youth and adult ski lessons and snowboarding lessons for all ability levels.
SKI + STAY PACKAGES
Experience all that Oliver and Osoyoos in the sunny Okanagan, BC, have to offer when you SKI + STAY at a hotel or in a B&B near Baldy Mountain Resort. Our accommodation packages have everything to fit your needs; whether you're planning a family vacation, a fun weekend with friends, a corporate retreat, or a romantic getaway for you and your loved one!
Ski Resort Jobs
Whether you're looking for a full-time or seasonal job in Okanagan BC, Baldy Mountain Resort may have what you're after. A wide variety of challenging ski resort jobs and career opportunities are available for the winter season at Baldy Mt. We are currently hiring for numerous positions.