Food and Dining
at Baldy Mt
Baldy Bar and lounge
The Baldy Bar at the base of Baldy Mountain Resort isn't what you might remember. Having undergone a fairly extensive renovation, it's still a place you look forward to at the end of your epic day on the slopes. Featuring a cozy fireplace by the comfy sofas, flat screen TVs for catching the big game, and a fresh, new menu, the Baldy Bar is the perfect setting to unwind and catch up with friends well into the evening. Due to its refurbishing, the Baldy Bar now seats 100 people and offers table service, making it ideal for larger groups and private functions.
Inside the kitchen, our staff carefully curate a menu that boasts locally-sourced ingredients, whenever possible, that will get those taste buds jumping. The Baldy Bar features daily specials and a full bar with local beers on tap. Stay in the know of our food and drink events by visiting our Events page, as we're always cooking up fun dining experiences with local partners.
Inquire about rental opportunities of the Baldy Bar here and book your next event with us!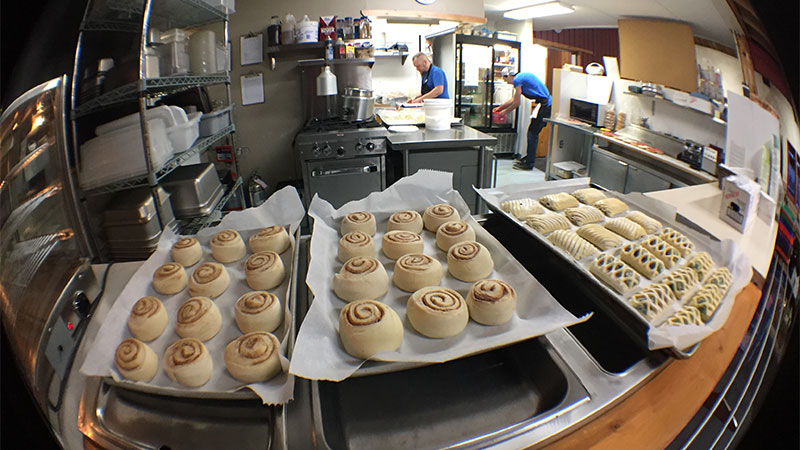 Corduroy Café
Located on the ground level of the Baldy Bar and Lodge, the Corduroy Café is the ideal 'grab and go' dining for a quick bite before heading out for alpine fun.
For breakfast you can find warm breakfast sandwiches, fresh muffins and sausage rolls to get you started.  Our lunch menu offers both light and heavier dishes of comfort foods, such as burgers, soups, wraps, salads and more. Pair a main with something from our extensive list of sides and make it a meal!
Step into the Corduroy Café and see what's baking!
Groups or events
Baldy Mountain Resort is more than just alpine activities. With a 100-seat restaurant and bar, a café, and expansive outdoor space, Baldy Mt in the Okanagan, BC, is the idyllic location for your next group event. In summer, our catering team sources the best local produce to create a culinary delight for all occasions. Register for one of our many foodie events, such as our long table dinners, or a have our team create a unique menu specifically designed with your guests in mind for your wedding reception. In the winter, Baldy Mt can offer an exclusive opportunity to discover the cultural history of the region, alpine adventures, and space for private events, including birthday parties, anniversaries, and corporate retreats.
For more information on group bookings or events, please visit our Events Page.