HEALTH & SAFETY
(COVID) PROTOCOLS
COMMUNICABLE DISEASE PREVENTION
We are committed to ensuring the health, safety, and comfort of our guests and staff. As such, we have continued to maintain certain safety measures and protocols to ensure our guests and staff are able to enjoy safe experiences while visiting with us.
We will continue to follow both industry guidelines & Provincial Health Officer orders, guidelines, and recommendations for as long as necessary. For British Columbia's latest restart plan information, public health orders and activity/travel advisories, please visit gov.bc.ca.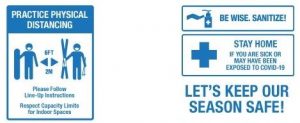 Your Responsibility
For the health and safety of fellow guests and staff, please do not visit:
If you are showing symptoms of COVID-19. For symptom details visit BC Centre for Disease Control.
If you have travelled outside of Canada and returned within the last 14 days. You are not be permitted to visit until you have self-isolated for 14 days.
If you live in a household with someone who has COVID-19, or have been exposed to someone sick/infected with COVID-19.
While Visiting Us
While visiting Baldy Mountain Resort please:
Wear your mask while inside any building or structure (per PHO orders).
Follow physical distancing guidelines of 2 metres (6 feet)
Follow all limited occupancy signage posted
Follow direction from staff (if you have any questions please do not hesitate to ask)
Use tap payment when possible
For everyone's safety and well-being, if you are unable to follow the guidelines and protocols, you will be asked to leave the resort premises.
Guest Services & Day Ticket Purchasing
What to Know:
Lift tickets are available for purchase in the ticket kiosk(roundhouse) near lifts from 8:30 until 1:00pm.
Tickets can also be purchase in rentals, and guest services.
Season pass pick up and reciprocals are in the guest services.
Limited numbers inside the building will remain in effect for the time being.
Barriers remain in place at point of sale terminals
Masks are required while inside guest services; as well as all other indoor areas at the resort
Sanitizing stations are in place for use by guests and staff
What to Know:
A mask or face covering is recommended in the lift line and when unable to physically distance
Ask for help if uncertain about loading or unloading chairlift
Chairs on lifts are being disinfected on a regular schedule
Follow staff instructions
Sanitizing stations are in place for use by guests and staff
NO SMOKING in lift lines or on the lift.
What to Know: Winter 2021 
We will be offering outdoor dining options during winter operations.  Our BBQ will be operating for food and drink options on some days.
Masks are highly recommended while outdoors and are still required at all inside areas.
Vaccine Passport is mandatory in the bar area.
Table size limits to six, and no socializing between tables.
Sanitizing stations are in place for use by guests and staff.
Added smores pit is installed in the Baldy Beach ticket kiosk (roundhouse)
What to Know:
Limited occupancy numbers inside resort buildings will remain in effect for the time being
Barriers remain in place at point of sale terminals
Masks are required inside ALL indoor areas at the resort
Sanitizing stations are in place for use by guests and staff
What to Know:
Follow social distancing guidelines (6ft -> 2m) whenever possible
The use of Masks are highly recommended
Follow staff instructions